Electricity Canada's inaugural Women in Electricity Award has been presented to three recipients from TransAlta Corporation: Erin Jolicoeur - HR Business Partner, Tiffany Hoskins – Business Partner, Equity, Diversity and Inclusion and Gary Woods - Vice President Gas and Renewables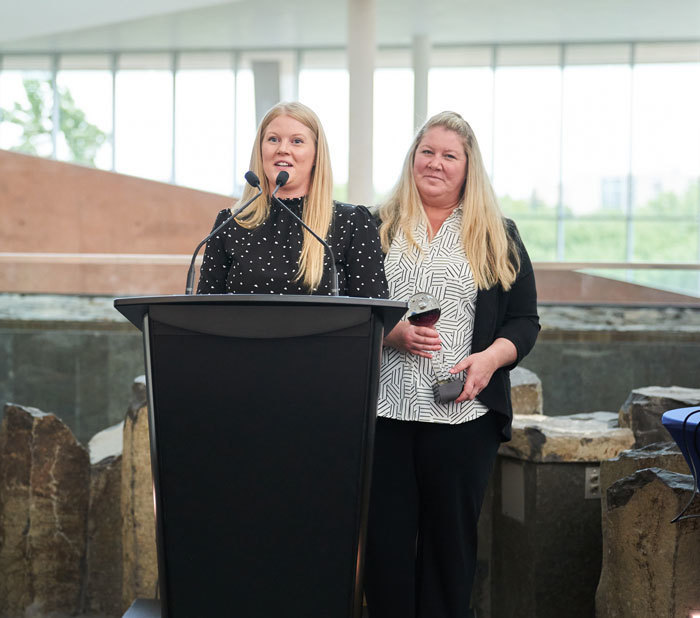 The Women in Electricity award was created to help advance the important role that women play in the electricity sector, and to recognize leaders in Electricity Canada's member companies that have worked to create a more diverse and inclusive work environments. The award was presented at Electricity Canada's policy symposium in Winnipeg on June 20, 2023.
TransAlta has a publicly set target of achieving 40% female workforce representation by 2030. Following TransAlta's first Equity, Diversity and Inclusion Census in 2020, Tiffany, Gary and Erin joined forces on an initiative to improve gender diversity in historically male-dominated positions. Their project, which is called the "Generation Gender Diversity Program" was designed with the goal to train and develop women to be ready for future vacancies.
"The team" as Tiffany, Erin and Gary are known, were also involved in several other important projects including:
Reworking TransAlta's scholarships for Engineering and Trades students the Northern Alberta Institute of Technology to include gender diversity and underrepresented groups. The endowment now includes separate bursaries, grants, and scholarships for those who identify as BIPOC, Indigenous, Identify as Women, Trades, as well as an entrance bursary and scholarship that is open to all students.
Recommending the use of inclusive language and imagery in their marketing collateral to show TransAlta is serious about their Equity, Diversity and Inclusion targets.
Working with TransAlta leadership during annual compensation planning and when making job offers, to ensure that there is equity in wages from men and women in comparable positions.
The work being done by Erin, Tiffany and Gary challenge leaders to remove unconscious bias and demonstrate that success is attainable for everyone and is fully supported by the entire organization including the CEO and Executive Leadership. The impact their work has on increasing female headcount has been noticed by other TransAlta teams who are now doing similar initiatives in pursuit of increasing female headcount.
Congratulations to Tiffany, Erin and Gary.